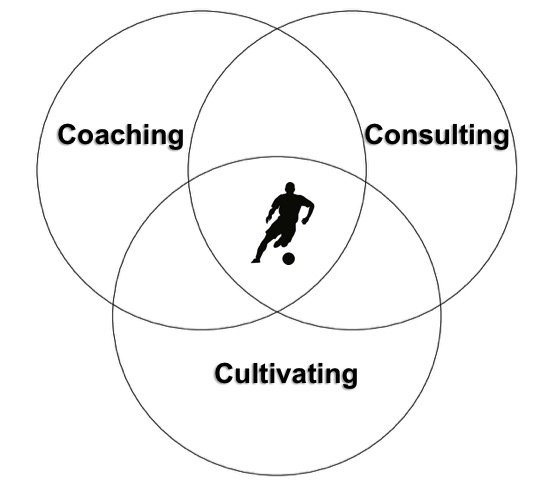 COACHING BALANCE
Today's youth soccer player needs to balance his/her team training with supplemental voices and training. U.S. Soccer suggests that a coach has 6 roles: "Coaching games, Coaching training sessions, Leading the team, Leading the player, Managing the performance environment, and leadership." This holistic approach can be applied to the following four coaching genres:
Coaching the individual. Each athlete learns differently and at his/her own pace. Individual sessions are usually a yearly commitment where CB soccer can help the individual athlete not only excel at soccer through specialized training but also academically, college resources, connections, fitness, speed, roadmaps, pacing guides, film anaylsis, game observation, and one on one discussions.



Cultivating and Building
Player development has become a buzz word. What are clubs building players for? CB Soccer can answer that question. We are building student athletes who can compete in the college arena. Cultivating an environment that is positive and truly facilitates growth with every meeting, training, game, and encounter is our mission. Building Student Athletes is CB Soccer's speciality. We offer team building camps, academic pacing guides, individual consulting, film review and study, and guidance on the college or professional pathway. CB Soccer will help you and your student athlete create a positive pathway toward success.
Coaching the group. Group training is an economical way to get specialized training for 6-8 players. The training is tailored to the group's ability level with consistent reps in functional roles. Call with a group and reserve your group training time slot!

Functional/positional training: Center Mid-fielders need to train differently than wings. Center backs train differently than outside backs. And 9s and 10s have different roles up top. Each week this summer, CB Soccer will be offering "functional training" per positions. Athletes perform better when they have trained with high repetitions in their role and when they understand their role when their team has the ball, doesn't have the ball, and during transition (when trying to win the ball back). One week will be labeled for each role including a week specifically for goalkeepers who need reps in tactical decision making (game scenario).

Technical training: novice players of all ages are invited to learn the basics of ball control. Many novice players fall in love with the sport as soon as they can manipulate the ball with their feet. This is a fun, but challenging way to "build your child's foot skills!"

Consulting Bin
CB Soccer offers so much diverse information and guidance. We offer consultations and advice on the following topics:
Film review Highlight reels Connections to colleges Team building activities
FAFSA Application process 24/7 availability Individual coaching
Mentoring Naviance Choosing courses Tutoring
Midfielder training Defender training Goalkeeping training Striker training
Finishing training Systems of Play Workshops Tutorials Speed training
Fitness Nutrition Weight/muscle Management Customized programs
Group training